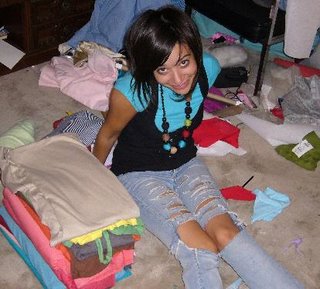 Meet Nicole Lindner, a 19-year-old Chesterfield resident bringing loads of color and tons of spirit to lonely closets all over the state. Her piano-key motifs are giving new life to this wardrobe staple. So how did she get started?
Do you have a traditional 9-to-5 job?
I did for a while. I worked at Hancock Fabrics, but know I work from the home selling my goodies.
When did you first get into crafting and making? What type of activity was it?
Well, I know it was at a very early age. I always loved to color, make jewlery, do those little peg boards with the beads. I would have to say I did a lot of artsy things after school in my spare time.
Why did you become interested in making?
I love to express myself. I always have and have had a lot on my mind. being crafty is a good way to vent and pass up the time.

What are your main products?
I mainly sell handmade one-of-a-kind clothing. I make to order dresses, skirts, shirts, etc. My main products are Halter Hoodies (strapless top with de-tachable hood), Piano Key skirts, silkscreened tees, and embroider/felt collage purses
Is this a full-time passion of yours, or something on the side?
Full time
How do you sell your goods? (Fairs, online, word of mouth, etc.)
All of the above. Mainly at fairs and through my online Myspace account
Price range?
Basic stuff is always well under $75.00. The price rasies up for the more dressy stuff, 100.00+.
How long have you been doing this?
Well, I started to make my own clothes in about 7th-8th grade. I started selling in Highschool.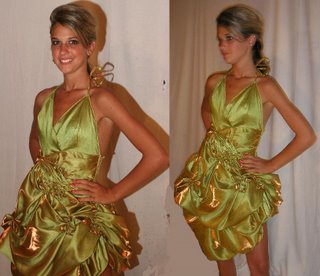 What kind of reactions do you get from customers?
A very positive one. Everyone seemed really excited to start buying my clothing. I had even recieved quite a bit of press in my day including the Real Detroit and Macomb Daily. I even had my very own live fashion show on Channel 7 News.
Why do you enjoy making?
I have no clue, it just gives me extreme happiness and a content feeling.
What's the most challenging aspect of being a DIY business?
Paying for things before seeing a profit, such as materials and flyers.
What's been the most rewarding aspect of your craft?
Happy customers. Doing something I wish to pursue in a future career of fashion design.
Do you have any tips or suggestions for someone interested in launching their own line or simply interested in making for the first time?
Make sure you have fun and don't be affraid to take risks! If you work hard and practice, you will be sucessful!!
What one toy would you love to see available in McDonald's Happy Meal?
Well, this probably woundn't be safe… But a mini sewing kit, mini kniting/crochet kit, make-your-own-jewlery kit. Maybe the objects would be gummi instead of real. That could be fun.