Carey, of Glass Action and Handmade Detroit, is part of this year's annual Life-Affirming Rock 'n' Roll garage sale. I headed down to Ferndale last year to check this out and came home with some nice goodies, both for my wardrobe and for my crafts. If you're out and about hitting up garage sales this weekend, make sure to stop by this one.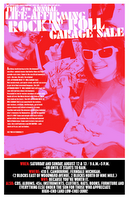 War, oppression, Ashlee Simpson's nose job — Only one thing can save us…
THE 4th ANNUAL LIFE-AFFIRMING ROCK 'N' ROLL GARAGE SALE
When: Saturday and Sunday, Aug. 12 & 13 / 9 a.m.-5 p.m. –(or until it starts to rain)
Where: 418 E. Cambourne, Ferndale Michigan. (Two blocks East of Woodward Avenue, two blocks North of Nine Mile.)
Why: Because you're worth it.
Also: CDs, albums, 45s, instruments, clothes, hats, books, furniture and everything else under the sun for those who appreciate high-end (and low-end) JUNK!