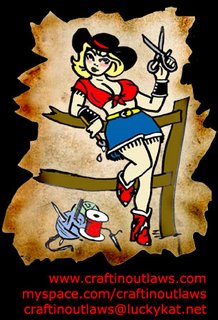 Ohio has a lot more to offer than just Cedar Point. Like Craftin' Outlaws, Ohio's largest alternative craft fair. (See, isn't that cooler than the Demon Drop?!) Take a look at these answers from Liz, the craftiest girl south of the Michigan border.
THE FACTS
Craftin' Outlaws
Sept. 23, 2006
12-8 p.m.
Skully's, Columbus, Ohio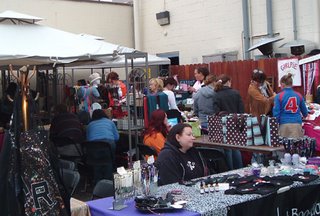 How long has it been running?
This year will be the second year for the event.
How many people do you normally have running it/volunteering?
I am the primary organizer and pretty much plan the entire event myself. My friend Meghan is doing all of the posters and flier designs this year which is a great help. I will also have some friends and family that will help during setup to get the day running smoothly and to help at the door.
When do you start planning for it?
This year I started in June and started accepted applications online on July 1st. Last year though because it was the first year and I had to plan everything from scratch, I started as early as February trying to line up a venue.
What kind of challenges do you run into making it happen?
Challenges include trying to organize and manage all of the vendor applications and to make a good decision on what is the best mix of crafters to have. Another challenge is to get a lot of support from the community and last year to get across the idea how this fair is a little different from what one may assume is at a craft fair. But I think with any event you put on, every year you learn more and in some cities it may take a little more time than others to really create a buzz… but if you stick to it you can really make it grow.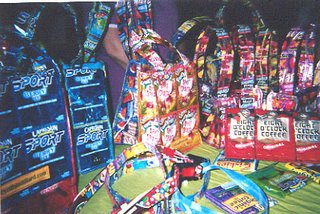 What's the best way to promote your fair?
I have found the best way to promote the fair to potential vendors is online posting on Myspace, crafty message boards, etc. The best ways to promote the event to the public is to get out as many posters and fliers as you can, post online about it, advertise in local media, send out press kits to get coverage, and have your vendors spread the word themselves as well. Here in Columbus we have a monthly Gallery Hop where a ton of people come out to the Short North arts district to shop, eat, and look at art and it is the perfect place to promote. Last year we were there handing out fliers there to everyone and this year we will be setting up a table to get even more attention.
What's the biggest reward for you having an event like this?
The biggest reward is providing an opportunity for local talented crafters/artists/designers to get there work out there and to make some money from it. I have gotten a lot of thank you's from vendors and attendees just for simply putting something like this on here… it was much needed.
What's the artsy/crafty scene like in Columbus?
Columbus claims to be a big supporter of the arts and does have a lot of galleries and shops with handcrafted work but these are all usually the high end and fine art kind of stuff. Until recently there wasn't much representation or support for the cool artsy/crafty scene. Within the past year or two, we have seen the emergence of a few other smaller indie craft fairs and even a great crafty consignment shop. This year, the amount of applications from Columbus doubled and I am so surprised at the number of talented creative people here. I am really happy at the buzz I have heard about Craftin' Outlaws already going around for this year and think we will have a great turnout. I think Columbus has a very bright future for this type of thing to become huge!
What one piece of advice would you give to a group trying to start their own fair?
One piece of advice that I could give is make your vendor's success and happiness your top priority. To do everything in your power to keep them informed and to create an environment for sales, including good lighting, music that's not too loud, etc. After all, what was all this promotion and advertising for but to bring people in to support your vendors. Sure, you could maybe make some profit yourself if you wanted or promote yourself and your own work in the process, but these should not be your top priorities.
Puffy stickers or scratch-and-sniff: which one's better?
Definitely scratch-and-sniff…. mmmm root beer.
Make sure to visit the fair's site and add it to your social calendar for this September!