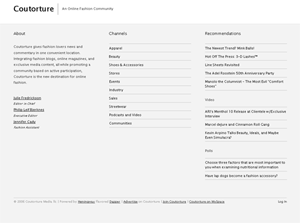 Handmade Detroit is pleased to announce a wonderful partnership with Coutorture, an online fashion community. What is Coutorture? Take a look…
"Coutorture gives fashion lovers news and commentary in one convenient location. Integrating fashion blogs, online magazines, and exclusive media content, all while promoting a community based on active participation, Coutorture is the new destination for online fashion."
With polls, video clips and recommendations of cool stuff to check out, Coutorture is a one-stop-shop for need-to-know info on the Web. Could I have hyphenated that anymore?!
Handmade Detroit is proud to join the new and growing "craft" section on the communities page.
We look forward to working with our Coutorture friends and hope that you do, too!