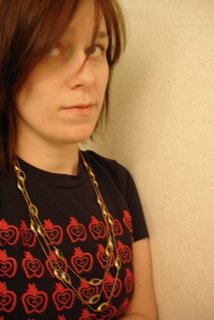 I first bought an April Fool pin last year back at Henrietta Farenheit's old Ann Arbor location. It talked about Detroit luv, so I was hooked. Since then I've been keeping up to date with the latest and greatest from this former Michigan Mittenette at her online shop. You can all drool over this handmade jewel I brought back to Michigan not too long ago: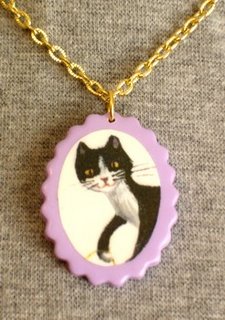 These days Melissa is busy in her new home of Carrboro, NC, working hard and saving the world with her unique handmade goods.
1. What's your name, how old are you and where are you?
I'm Melissa Stajda. I will be turning a ripe-old 27 in a couple of weeks. I was born and raised in southwest Detroit.
2. What's the name of your business? How long has it been up?
I'm the proud owner of April Fool Handmade, and I officially made myself public in the summer of 2004 when I set up shop at "Dally in the Alley".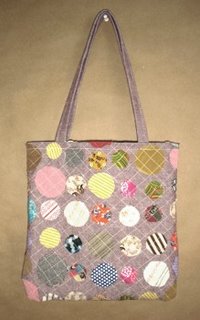 3. How did you get started?
I got started crafting when I was old enough to use my thumbs, I think. My grandma taught me to crochet when I was tiny, and then to hand-sew doll clothes. She was always making my clothing, filling her house with crafty things, and just making everything on her own … A woman to admire! I took it from there, basically teaching myself every technique and skill that I found interesting. The business side of things came about out of necessity rather than demand. I made myself some tote bags to lug around my art supplies at Wayne State, and then my pal Lindsay wanted a bag. She told a friend and that friend told a friend. It just kinda snowballed, resulting in me peddling wares at "Dally". After that everyone caught on and encouraged me, so I got to work trying to keep up. I've been trying to evolve and grown everyday since then.
4. What are some of the challenges that come with being a DIY business person?
There are so many challenges. The biggest thing is that it's all about you, and all of the responsibility and work is on your shoulders. I had to learn so many crazy skills and take on numerous roles when I got serious about making a career of this: designer, seamstress, salesperson, Web designer/moderator, graphic design, accounting, and just an all-around people person. You really need super energy and motivation to get your name and work out for people to discover. But once you're recognized and folks appreciate your hard work, it's a huge payoff.
5. What do you enjoy most about your business and crafting?
The most enjoyable part of the business is the physical aspect of creating. I love feeling productive, and I get so much satisfaction in creating my own clothing, handbags, and artwork. It makes me feel so self-reliant … And it's nice to stick it to the big corporations, too!
6. What's the one crafting tool you can't live without?
My sewing machine! I hate hand sewing, there's no way.
7. If you could eat one kind of cereal for the rest of your life, what would it be? Why?
Quaker Oatmeal. I eat a bowl every single morning, with brown sugar and tons of cinnamon. Yumminess and healthiness that lasts the whole day through.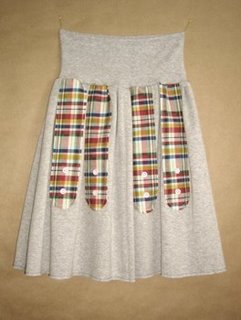 8. What do you think about the growing trend toward handmade products?
I think that the trend of homemade is really, really great. It's the way the world should work; people should be able to live off of their skills, and folks should purchase handmade products to promote fair wages. The thing that I cannot stand though is people trying to capitalize on the aesthetic of handmade. For instance: Urban Outfitters. They want to make money off of the aesthetic appeal of handmade items, the fact that they appear to be one-of-a-kind and individual. But they're stealing those designs from folks like me, and then paying slave wages to foreign workers to have them mass produced. Also, a lot of people have jumped on the handmade bandwagon and produce a lot of bad-quality items to make a quick buck. They don't realize that handmade is all about the actual work the artist puts into it, and that patrons recognize good work. But, those folks will weed themselves out soon enough.
9. How do you promote yourself? What's worked, what hasn't?
I'm actually really lazy when it comes to promotion. Sad to say. I don't pay for magazine ads, and I don't buy banners or anything. I rely solely on the customer and word of mouth, and it seems to pay off for me. I used to burn myself out trying to "sell" myself to everyone, but I found that if you just work hard and put yourself into the craft, people will seek you out. But the one thing I can recommend: Put your product into as many good shops as you can, and be sure that the folks who are running them are very professional and appreciate you and communicate with you. Look for shops who advertise a lot in mags, and who make themselves present in the handmade community. I've wasted a lot of time on shop owners who send late checks or no checks at all, who take lousy photographs of your products, and who let their personal lives interfere with the business too often. That just makes things hard for you, so you have to seek out the right shops and stick with them, and form a relationship.
10. What advice would you give to someone who'd like to start her own biz?
Wow, I have so much advice. It's hard to narrow it down. I learned so much these past two years and I could go on and on. One thing that I still have to convince myself of is only make what you like, don't follow trends, and don't try to please everyone. If you constantly try to make what you think people want, you'll burn yourself out, and you'll just be making the same thing that everyone else is. Just try to create something that represents yourself, and don't think about the money! That way you'll never disappoint, and you'll have an awesome stash of goods for yourself … if no one buys it all 🙂
Brought to you by Lish D.