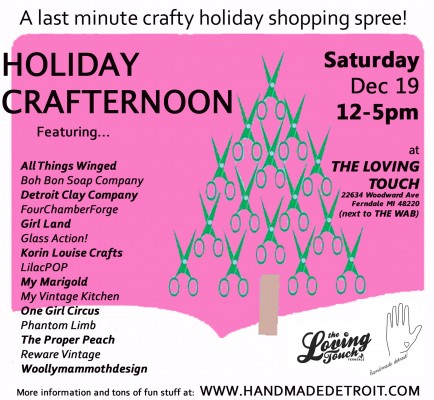 It's hard to believe but another December is whizzing by and our annual Holiday Crafternoon is already upon  us!

Years past we've taken over the downstairs room at Ferndale's very popular Woodward Avenue Brewers, but with the owners branching out yet again and building  the gorgeous pool hall The Loving Touch directly next door, we couldn't resist moving our event and really spreading out!
Join us Saturday, December 19th from Noon – 5pm!  There is NO COVER for this event and the bar will be open! Vinyl-lover and "In The Forest" DJ Ritchie will be spinning records all afternoon.
A fantastic array of handmade and DIY designed goods will be for sale at this 15 vendor event. Lots of Detroit and Michigan pride will be represented for folks on your list that have moved on to other parts of the world, or hunkered down and still call Michigan home.
We all know how crazy the economy has been and how it's effected each of our lives. And buying handmade gifts is such a wonderful way to say thank you and support our local creative community, and a chance to give a very special gift that will be remembered and cherished for years to come.
Ho ho XO!
p.s. You can also RSVP on the Holiday Crafternoon Facebook event page.