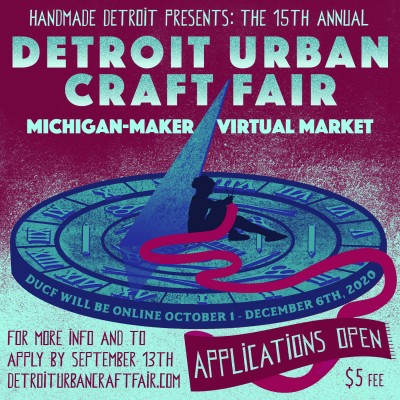 Vendor applications for the 15th annual Detroit Urban Craft Fair are now open!
This year's fair will be held virtually with the health and safety of our vendors and shoppers in mind. We will again feature over 100 handmade crafters and indie artists, but now over the course of 9 weeks, on both our social media feeds and the DUCF website. Be sure to check out our FAQs for all the details of what we have planned for vendors!
This is our first virtual fair, and we are enthusiastic about helping bring our shoppers and makers together in this new way so we can still spend our time together celebrating handmade, apart but together.
DUCF Michigan-Maker Virtual Market?
For 2020, DUCF will be solely focused on makers and artists within Michigan, to promote the creativity within our great state. Again: Vendor Applications are open to Michigan makers ONLY this year.  Thank you for your understanding! We're keeping it hyper-local this year.
When and where is it?
DUCF is October 1st – December 6th, 2020 at:
Handmade Detroit's Instagram (@handmade_detroit)
Handmade Detroit's Twitter (@HandmadeDetroit)
Detroit Urban Craft Fair's Facebook Page
What is the cost to vend?
We are artists and makers ourselves, and understand that our community has been hard hit in 2020, and so we are only asking for $25 from each vendor that participates in DUCF. When the fair is over, if you feel like your experience and sales from DUCF were worth more than the $25 fee, you will have an opportunity to contribute more to Handmade Detroit for the work that our team did.
Take Note: Your application to this juried event is due by September 13th, so don't delay! Please visit the DUCF website to submit your work, read our FAQs and to learn more about the fair.
Last but not least, we are excited to announce this year's DUCF  poster designers: Dennis and Christina Jacobs of Arsenal Handicraft! This husband and wife team designed our poster for our 5th DUCF back in 2010, and we are thrilled to have them return as our artists in 2020.
Yours in the crafty revolution,
Bethany + Carey