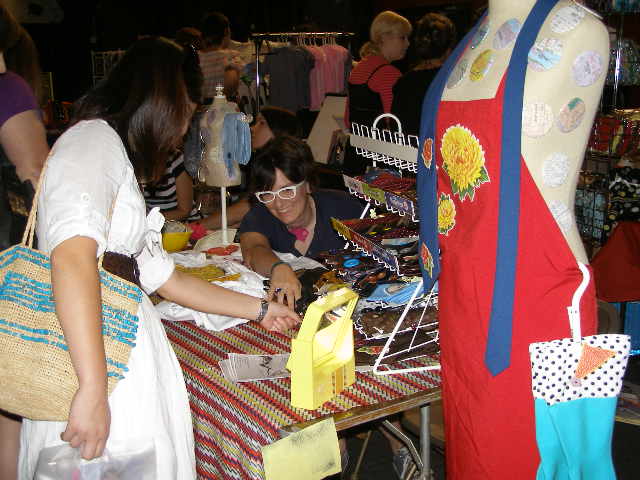 Good gravy. I promise my next craft fair booth will look 100 times better. DUCF 2007, Majestic Theater.
Like a LOT of us, I can't wait for this year's Detroit Urban Craft Fair December 6-7 at the Masonic Temple. This year's show will be a bit different for me; you won't find me behind the Handmade Detroit table but instead behind my own booth.
Late this summer I stepped down from Handmade Detroit after nine years and eight DUCFs. I've loved being a part of Handmade Detroit and DUCF, but it's time for my next DIY chapter. I'm looking forward (and slightly panicked) to returning to the role of crafty seller this winter and seeing all of the great new products this year's class will be offering. For those who have followed Handmade Detroit's off-shoot events over the years, you might remember Rethunk, our green-themed arm. That upcycling passion has fueled my latest creations as I work on turning craft scraps into new pieces of art, useful items for the home and more. And let's be honest – my fabric scrap stash is out of control!
I can't wait to see the lineup at DUCF this year and chat with the loyal shoppers, volunteers, significant others and friends of the fair and the group that have been there since DUCF 1. And I can't wait to meet all the new faces, too.
To anyone who's ever stopped me to say how much they love shopping indie, tried a new hobby or even changed careers because of DUCF, thank you. That has meant the world and will continue to mean the world to me from here on out.
See you at the fair,
Lish