If you are looking to do some Valentine's Day (or just regular shopping) done soon, there's lots of opportunities to shop indie coming up!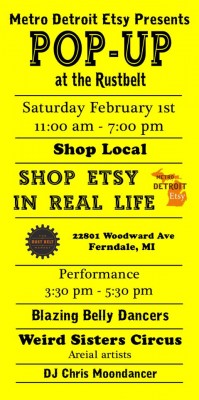 Tomorrow, Saturday Feb 1st, is the Metro Detroit Etsy Team Pop-Up Shop inside the Rust Belt Market. There will be a bunch of great local crafters, and a performance by the Weird Sister Circus, the blazing belly dancers, and DJ Chris Moondancer. The pop-up is 11-7pm, and you can get more details on the Facebook Event Page.
Thursday, Feb 13th is VLNTNSDYMRKT 2, hosted by Pot & Box at The Eight & Sand Event Space in Hamtramck, from 3-8pm. Many local favorites will be there – check out the whole list on the VLNTNSDYMRKT website.
Want to get yourself a little gift? Check out the Vintage Jewelry Sale & Tea at the Community House in Birmingham on Sat, February 15, 11:30am – 5:00pm. You can sit down for a formal tea before shopping for a $40 reservation, or just enter for the sale for $5 at the door. Over 40 Vendors will be on site selling handmade, vintage and repurposed jewelry. For more information, visit http://tchserves.org