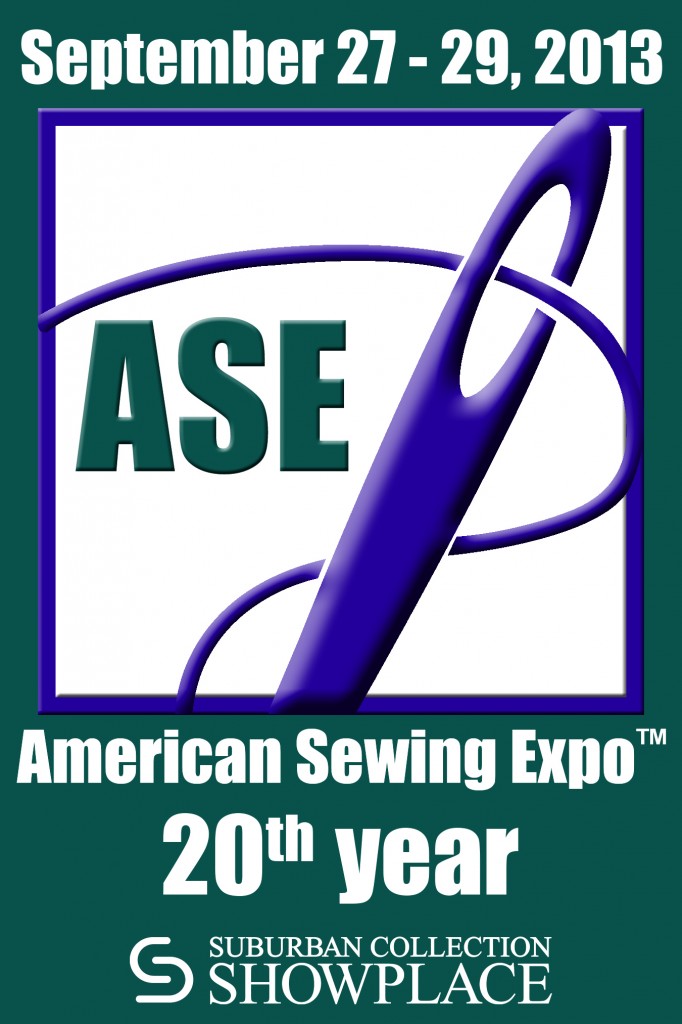 As Labor Day approaches and thoughts of the "unofficial" end to summer start to linger, it's time to face it – fall is just around the corner. But for us crafters, that's great news. Fall means a busy craft fair season and lots of crafty events, including the annual American Sewing Expo, held right in our backyard in Novi.
The event is celebrating its 20th year of offering workshops, seminars, and an over-the-top market for sewers both near and far. I'll be heading to the event in just a few weeks. If you're interested in attending, it's time to sign up for your favorite classes, especially if you're a fan of Gertie's New Blog for Better Sewing AND Craftsy!
Check out the official details and press release for this year's show below. Keep an eye on ASE's Facebook page as well as our own for updates and news. Hope to see you there!
The 20th annual show features accessories, embellishments, one of a kind fabrics and supplies, fashion sewing, fitting, home decorating, machine embroidery, needle arts, quilting, sergers and wearable art. Showgoers will see over 20 exhibits, fashion style shows and sewing challenge competitions. Over 125 exhibitors from 35 states, Australia and Canada will be displaying sewing machines, notions, threads, patterns, yarn, technology, kits, gadgets, embroidery designs, tools and other products. Techniques and tips will be taught at over 225 seminars, hands-on workshops, demonstrations and seminars including drafting and fitting patterns, professional and industrial sewing techniques, equestrian show costumes and heirlooms.
Show instructors include fit specialist and couture expert Lynda Maynard; couture sewing expert from "It's Sew Easy TV" Angela Wolf; home seamstress and creator of Gertie's New Blog for Better Sewing Gretchen Hirsch; Baby Lock's Love of Fashion national spokes-designer Joi Mahon, instructors from the online craft education and community platform Craftsy and other award winning fashion sewing designers.
Reality sewing television competitions are the inspiration for the "Passion For Fashion Sewing Challenge," sponsored by Baby Lock, that begins as the show opens when 12 finalists design and sew garments for judging and a fashion show (similar to Lifetime's Project Runway, NBC's Fashion Star and Bravo's The Fashion Show).
"Quick-Stitch, The Challenge" will also be a live sewing competition, sponsored by Craftsy and Pfaff. Three times per day, contestants will compete in a 75-minute challenge to create a fashion accessory, home décor or craft project.
McCall Pattern Company will feature sample garments from their McCall's, Vogue, Butterick and KwikSew patterns, explain how to measure for sewing pattern sizing and provide information on creating a pattern line including information on printing patterns.
Attendees can learn tips and techniques at make-n-take projects in vendor displays; as they sew their own project to take home at the Sew Party Café sponsored by Juki; and as they make an item and embellish it using their style and imagination at the Artistic Studio sponsored by Janome.
The "Innovation Generation Fashion Show Competition," sponsored by Coats & Clark and Baby Lock, will be held on Saturday for 8 to 18 year olds who know the sewing process and have made their own garments. Entries are prejudged and then worn by the contestants on the Expo Fashion Stage. A Dream Sewing Room, sponsored by Bernina, will be given away on Sunday.
Special display exhibits and events will include the cutting edge of fashion sewing, quilts, wearable art, American & Efird "Push the Envelope Contest, 18" doll clothes charity project and Social Media Lounge. Attendees can bring 8" x 8" quilt block for display and use in The Leukemia Foundation Quilt project sponsored by Simon Haskins of Jenny Haskins Designs.
"Show visitors can test-drive sewing machines, see a fashion show, do some shopping, or watch a demo to get creative tips, discover fresh possibilities and be inspired for new projects," said Pray. "Sew' many possibilities to learn new crafts, brush up on techniques and find out how the experts do it at this year's show."
Suburban Collection Showplace is located at 46100 Grand River Avenue between Novi and Beck Road in Novi, Michigan. Show hours are 9 a.m. – 6 p.m. Friday; 9 a.m. – 6 p.m. Saturday and 9 a.m. – 5 p.m. Sunday. Preshow workshops are 9 a.m. – 5 p.m., Wednesday, Sept. 25 and Thursday, Sept. 26. Expo admission is $14 and children 15 and under are admitted free with a paying adult. One-hour seminars are $14, all-day workshops are $130 and special combination packages are available. Onsite parking is available for $5. For more information, visit www.AmericanSewingExpo.com or call (248) 889-3111.