Hey there! Carey here. I drew the short straw and have the honor of closing out our little series of the HD gals favorite craft tools!
When I started working in stained glass way, WAY back in 1990, I was learning the trade step by step. Cutting glass, grinding it to shape, foiling and assembling – it all took a lot of practice to learn all the techniques correctly and then get BETTER.
The trickiest part for me was learning how to solder properly. Just the right heat, amount of flux and solder, working down the foil lines to get a nice flow going (or "bead" as they call it in the biz).
My soldering got much better over the years and I'm still learning and figuring things out with my FAVORITE hand held tool in my workshop: The Weller 100 Watt Soldering Iron! Here she is. Isn't she a beaut?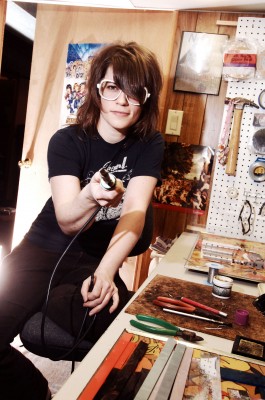 Well, you can't really see it there.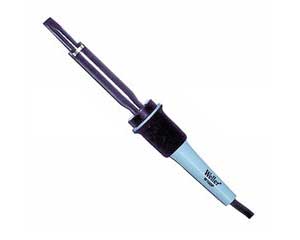 There we go.  This is definitely a tool I can't live without. They range between $65-90 dollars. Delphi Stained Glass in Lansing is my jam. Their catalog, pricing, project ideas and shipping deptartment  (if you don't get out to mid-state much) are top notch.
My bonus Fave is in paper form: The Value World 50% off coupon. I've found a million zillion treasures thrifting over the years, and finding this little Golden Ticket in my junk mail makes my day! I'm pretty easy to please.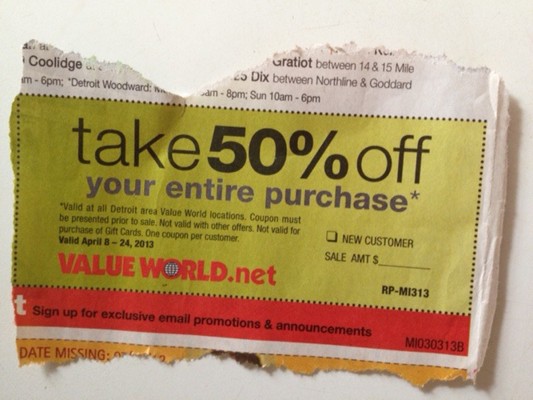 Please be sure to check in with Handmade Detroit on Facebook to share your favorite crafting tools and
HAPPY NATIONAL CRAFTING MONTH!