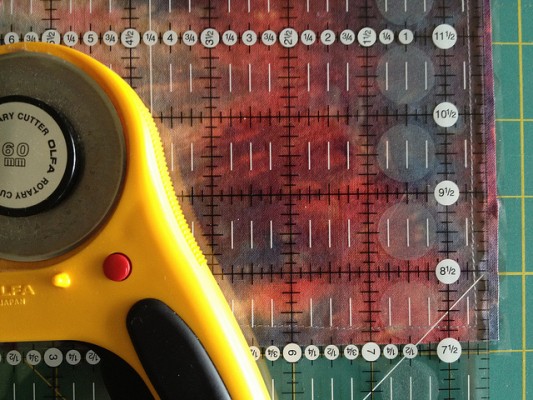 Happy National Craft Month! Not even a Hallmark holiday, National Craft Month is a time for crafters to… well… do what we do all the time! Actually, it's a great time to encourage others to try something creative this month, even if they don't think they have any creativity to share (I bet they'd be surprised).
All this month the Handmade Detroit gang is going to share their favorite crafting tools. What's yours? Make sure to let us know either here on the blog or over on Facebook.
I'm up first with my favorite tool. Well, make that tools, plural (I know, I know. I'm breaking the rules already). But my tools are actually more of a package. They're my quilting supplies that often serve a much bigger purpose in my craft studio. So, what can't I live without?
Olfa 60mm Deluxe Ergonomic Rotary Cutter – Olfa cutters are the best, hands down. I love this cutter because the ergonomic design is great for long hours of cutting. There's also a safety lock to keep the blade retracted, either position, depending on the need.
Olfa Cutting Mats – I have them in a variety of sizes in my craft studio, from giant to tiny. I really like the smaller ones as they're easy to transport for the projects on the go.
Creative Grids Rulers – With a hint of texture on the back to help keep slipping to a minimum, these rulers hang proudly on my craft studio walls. They're also made in the U.S.