Handmade Detroit's tees, totes and tots fashions have been a collaboration of designs, ideas and art. One thing that remains constant is the talented man behind the screens and ink. I'd like to introduce you to Scott Michalski of ESP, a sponsor this year at Detroit Urban Craft Fair!
I had a few questions for Scott about his shop, work and more to share with you all. Enjoy!
When did you get started in the graphic and printing business?
I started printing and designing t-shirts in my parent's basement in high school. After making dozens of terrible homemade New Wave bootleg shirts, I spent many years working in Detroit area print shops, mastering the craft of screen printing.
ESP is a new Detroit business! How did that come about?
I knew I wanted to create a new model for the modern screen print shop, and the alluring new energy of the city really made sense for me. I wanted to be in a community where other people are inventing, re-imagining and pioneering their visions, too. It's infectious. It's a very exciting time to be a small business operator in Detroit!
What does ESP specialize in? What will we see at DUCF?
ESP specializes in custom screen printing. We work with crafters, schools, businesses and bands. We do design work and illustration work, too. However, at our very essence, we're just printers that love to pull ink.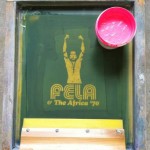 This year at the DUCF, we will highlight some of our own in-house designs. Please come by and chat with us about our craft. We love to talk about printing and I'm always happy to help out first time printers with their own projects!
Living in and near Detroit we see how the city works and grows and changes. Do you have goals of wishes of where you'd like to see Detroit in the near future?
It just needs to continue growing organically on the ground level. It all starts with people. People and ideas. If more amazing people continue to invest their passions and ideas in the city, the city will continue to grow in the right direction. Want to see Detroit be amazing? Come and do amazing things here! Don't wait for somebody else to do it.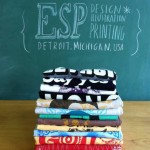 We're very excited to welcome ESP as a sponsor this year! Please visit espdetroit.com for tons of more info & images of Scott's Detroit based business.