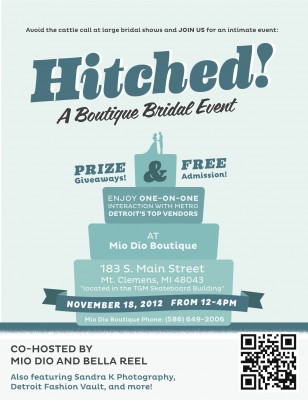 Hitched! A Boutique Bridal Event, is being Co-Hosted by Catherine Kynaston of Mio Dio Collection and Chelsey Kimbrough of Bella Reel. They dare you to avoid the cattle call of large bridal shows and join them for an intimate event. Grab a glass of champagne, have a little snack, and talk wedding!
Catherine is a bridal accessory designer and Owner of Roe Bridal. Roe is a line of Handcrafted hair accessories. The line ranges from rhinestone headbands to feather fascinators, and birdcage veils. Ready to wear pieces are available at Mio Dio Boutique, or come for a consultation for a custom piece.
Bella Reel creates hand crafted films for the modern couple. They understand that the "classic wedding video" is a thing of the past. They strive to get to know you, the REAL YOU. Chelsey loves meeting new couples and translating their story into their own personal film.
Detroit Fashion Vault will be setting up display of vintage bridal jewlery and handbags. Sandra K photography will also be in attendance.
Check out or RSVP the Facebook event invite for directions and more.