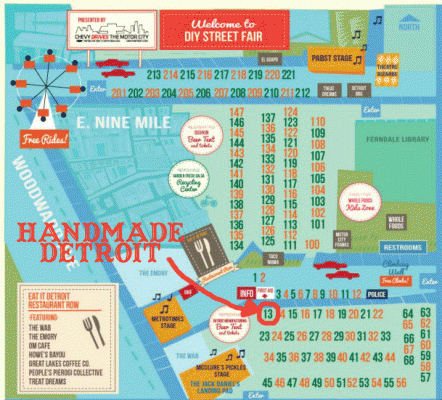 Hi friends!
This weekend is one of our favorite events of the year- DIY Street Fair in Ferndale! In its 5th year, DIYSF  expands into 9 Mile Road, with more vendors, more music and even a ferris wheel!
Handmade Detroit will be featuring a shop with 6 sellers this year.  In addition to having our own HD merchandise to browse from, you can also shop with these talented sellers:
Jodi Lynn's Emporium of Doodles
We will be in booth #13, right near the beer tent (woo hoo!).
Our lovely neighbor this year will be Bethany of Reware Vintage, make sure to stop buy and check out her great selection of vintage and handmade goods.
See you this weekend!
DIY Street Fair
9 Mile Road East of Woodward Avenue


Ferndale, MI
FRI 06:00PM-Midnight
SAT 11:00AM-Midnight


SUN 11:00AM-11:00PM (Marketplace until 9PM)