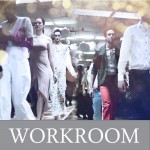 Fashion in Detroit just got a big boost! Behold: The Workroom, a savvy fashion cooperative aimed at working together with local designers, photographers, make-up artists and the like to promote and help each other's businesses grow.
I followed them through the recent Hatch Detroit contest, and though they did not take home the top prize, like many other finalists they have moved forward to develop their business plan.
On January 19th they hosted their first event, Workroom 1.0, which included a runway show, pop-up photography studio, and bazaar, where designers could meet with the public to talk about their business (as well as sell some wonderful work!)
Click here to see some pictures from the evening.
What a fun night! I look forward to Workroom 2.0!