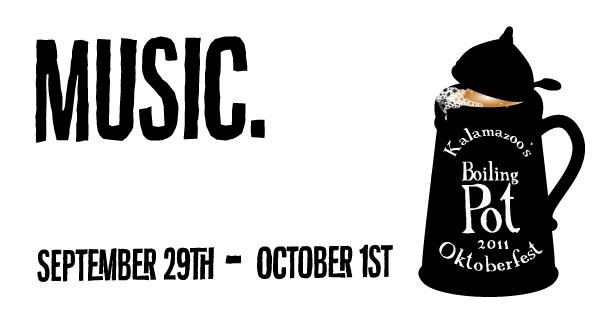 Amber Adams of Wooly Mammoth recently sent info on a K-Zoo festival that sounds pretty nifty. Here's the skinny from Amber:
"Boiling Pot festival will be a totally awesome second year music festival in Kalamazoo, MI on September 29th-October1st, 2011. It features a lineup of over 30 local Michigan and midwest bands, several delicious food vendors, as well as michigan wines and craft beers. It is billed as an Oktoberfest and is Kalamazoo's largest 'green' festival.
We are very focused on sustainability and local arts initiatives and are putting together a vendor market with over fifty spaces available for painters, photographers, vintage moped and bicycle sales, clothing and accessories, and more. 10×10 vendor booths are available for $70 which covers the space for the 3 days, admission to all aspects of the festival, and free coffee each morning provided by the Kalamazoo Coffee Company.
More event info, the band lineup, and vendor applications can be found on the Boiling Pot website. Applications are due by August 10th, 2011. If anyone has any questions, our vendor coordinator can be contacted at boilingpotvending@gmail.com"