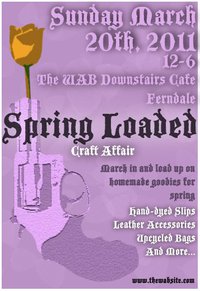 Yay – this weekend finally welcomes the first day of SPRING! Even though the regularity of "nice" weather is still around the corner, it's a day worth celebrating!
Long-time Woodward Avenue Brewers employee Sherry Gershon thinks so too, and has put together a little craft show Sunday in the "WAB" lounge – the smaller room downstairs. Several crafters will be selling their wares, with Sherry herself behind the bar! Swing by for lunch and see some new work. Heck, maybe if the weather's nice they'll throw those famous garage doors open – a DEFINITE sign of spring's arrival in Ferndale!
The WAB is located on the southeast side of Nine Mile and Woodward.