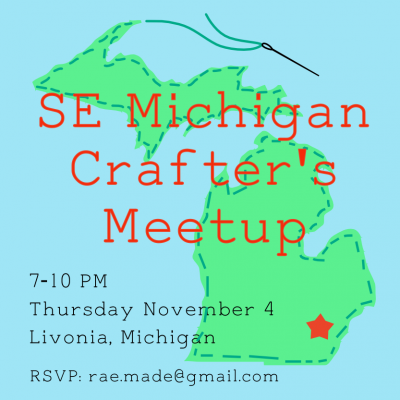 Made by Rae and Patterns by Figgy's will be hosting a meetup tonight for area crafters. Interested? Read on.

If you live within driving distance of Livonia, Michigan come join us to sew, knit, craft, or just hang out with fun crafty people and see the latest shade of Karen's hair (last checked: purple. At last sighting her ears were still a little purple too). Bring a crafty project to work/procrastinate on (Warning: we will probably ooh and ah over it). Also, I really even hate to mention this but Christmas is coming and it's time to get started on those handmade gifts…
We will provide: comfy chairs, tables and outlets/cords for sewing machines, ironing board/iron, cutting mat, possibly some snacks.
Bring your own: crafty project, sewing machine if applicable, snacks to share if you like.
RSVP: If you think you might be able to come (no strong commitment required, just a sincere interest), email me no later than Wednesday, November 3 so I can give you directions and provide you with any other details you might need.
And if you can't make it this time, don't worry, we'll have another one soon! Let me know if you have ideas for other locations or a more clever name for our group