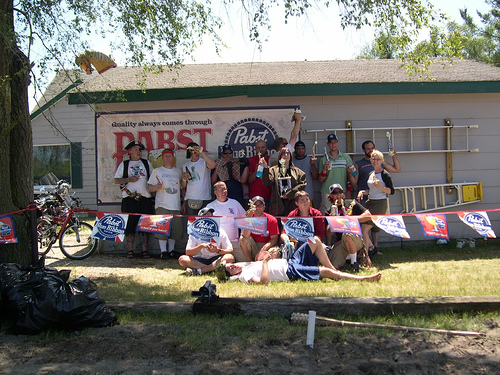 Every year, our college gang, aka "The Cool Kids Club," gets together the last weekend in June for the most anticipated three day event in Lawn Sports – The Lawn Sport Olympics.
We camp out in Eric and Katie's backyard and play tournament style lawn games. All the important lawn sports are represented – ladder golf, cornhole, croquet, bocce ball, horseshoes, lawn darts, and most importantly, badminton. The names are drawn, brackets are set up, keg is chilled and the adventure begins.
For the past six years, the Lawn Sport Olympic committee has bought used trophies and had them re-engraved for the 1st, 2nd and 3rd place winners of each sport. There is also a Grand Champion (whoever gets the most points by advancing in the games), who wins the giant trophy and the coveted brown corduroy jacket. The runner up also gets a trophy, the "First Loser award."
This year, host Eric decided to try something new and make the trophies himself, and what more appropriate than drinking glasses? Third place received a rocks glass, second place a pint glass, and first place a giant beer mug. Grand Champion got what must be the world's largest snifter. First loser? A giant mirror, so they could be reminded of their loss every day.
While the pictures don't show the fantastic workmanship that went into these, it was an incredibly impressive work. Each glass was etched with the Lawn Sport Olympic logo on one side, and an image of the sport on the other. All in all, it was 24 items, each with perfect etching. Lets let Eric explain how it all came together (with some slight edits for language)!
Why did you decide to make handmade trophies this year for the Lawn Sport Olympics? It was Katie's idea, we wanted to create trophies that people could use, and hopefully limit the last minute competitiveness that limited the fun on last year's Sunday. I mentioned that we used to make our own etched glassware when I was a kid and she ran with the idea.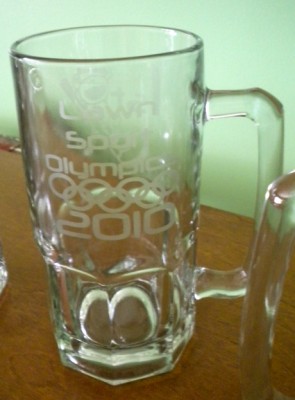 How did you come up with the idea to make the glasses? We used to make our own glasses as kids. My mom was experienced with the hobby of glass etching. I spent a couple years working in the sign shop at CMU and understood the possibilities of plot-cut vinyl stickers as wicked-sweet stencils. As a kid, your glassware was only as good as your ability to make artistic stencils, and I lack that ability. So I started searching for a place to get the stickers cut, Jason Shrum [of Eclipse Print Emporium, and fellow LSOer] said that his place of work had a plotter, and I've been working with him and his boss for the last month. If you can get the stencils made the rest takes care of itself.
Where did you get the glasses, mirror and enormous snifter glass? I hate to admit it, but we picked them up at WalMart. The GIANT snifter was in the floral arrangements section.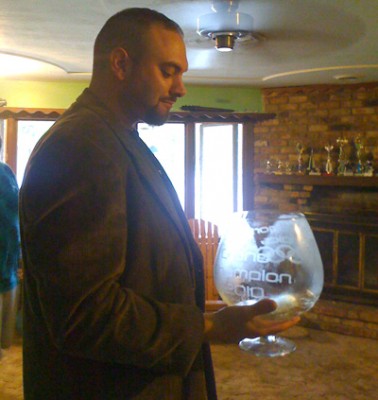 What etching did you use? Was it easy?  Any tips on how to use it? Armor Etch is the only etching that is regularly available. We got it at Hobby Lobby. The glass etching hobby kind of died out after the 70's so it's kind of tough to find. You normally draw out your pattern on regular contact paper, cut it out with Xacto knives, slap it on the glass and DON'T follow the instructions. DO – Apply the stuff with a disposable hobby brush. DO – Shake the [Heck] outta the bottle before using. DO – Apply it THICK AND EVEN!!!! DON'T – Believe the time on the bottle, go for 15-25 minutes, that seemed to work for us, when the stuff was thick and even. Also, if you use vinyl stickers for stencils, wash off the stuff with warm-to-hot water and IMMEDIATELY peel off the sticker. The chemical will help to loosen the sticker and make it easy to remove, until it dries. Then you're on your own, [edit]!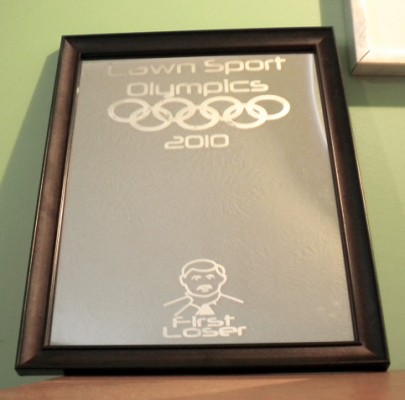 Who designed the stencils that you used, and how did they work? I designed ALL of the logos, using stuff I downloaded online and the Paint.net editor. I then sent the .jpgs to Jason and ordered them cut on plain white vinyl, masked and weeded for negative space. They worked great (although I did have a LOT of experience with vinyl stickers from work) BUT YOU MUST REMOVE THEM RIGHT AFTER WASHING OFF THE CHEMICAL!!! The combination of heat, water, and the chemical temporarily loosens the adhesive.
How long did it take you to make all of them? Once the stencils arrived we were REALLY short of time. We had already passed the last day to order "emergency" trophies if it didn't work. I got home from work at 3pm and started applying the stickers one "prize level" at a time. I had my experience at work to help (like use your credit card to squeeze out the air bubbles). I would apply the stickers, put on the Chem, and then start on the next batch of stencils. Once the time elapsed, I washed, Katie peeled, and then I applied the next batch of GOO!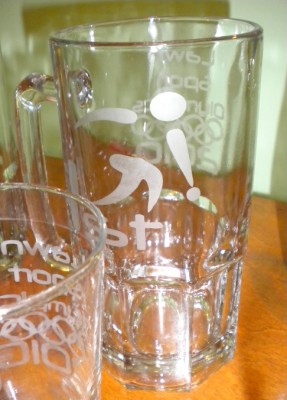 Anything else you'd like to add? APPLY THE GOO THICK AND EVEN!!!!! If you miss a spot it will TOTALLY SHOW!!! Also, I need help for next year! If anyone knows how I can get me hands on about 30-40 carnival prize "Mirrors" from the 80's (the one's that were just a paper frame with a print and a piece of SHARP cut glass) to etch into next year's trophies I will [edit] dig it!!! And yes, I'm already working on next year's LSO!!! If they can get a hold of you, and you-me, it would be awesome [you can email me at bethany@handmadedetroit.com if you can help]. I mainly need the frames, and maybe the glass (but I can get that myself if needed) and then I'll hook up my own prints. HELP!!!
Thanks so much, Eric for giving us some great tips! I am really excited to try glass etching for the first time! Oh…and if you were wondering, I won the Lawn Darts 3rd place rocks glass!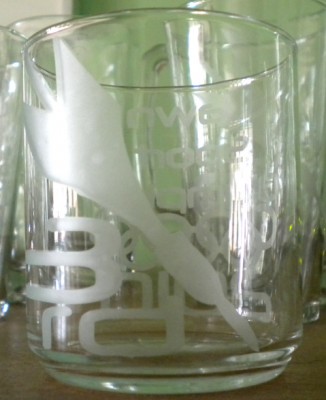 Wanna read more about the Lawn Sport Olympics? Check out the Facebook page, and our Flickr sets!