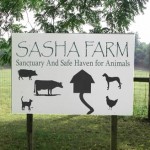 SASHA Farm (Sanctuary And Safe Haven for Animals) is the largest farmed animal sanctuary in the Midwest, and is located right in our back yard in Manchester, MI. They provide food and water, veterinary care and a shelter for various animals, as well as give the animal residents affection, social interaction with others of their own species, and a sense of security.
SASHA is getting ready for their annual silent auction, which raises a large percentage of their operating budget for the year. They have asked for help in collecting donated items for the auction, and here's where you come in!
The donation deadline is April 5th. All donations must be
animal-friendly (no leather, fur, feathers, wool, etc). Donations can be sent to the sanctuary: SASHA Farm, Attn: Amanda, 17901 Mahrle Rd., Manchester, MI 48158.
If you have any questions, please contact SASHA Farm.