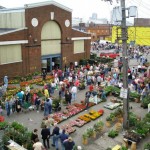 From Detroit's Eastern Market:
If you are a local Artist or Crafter and would like an opportunity to sell your merchandise at the largest public market in the country, then Eastern Market is the place for you! We are currently accepting applications for our Fall & Holiday Artisan Village.
Beginning September 12, 2009 Artisan Village will open every Saturday from 7am – 5pm. Eastern Market offers a festive and vibrant location to showcase and sell your hand-made art and merchandise. We are looking for hand-made jewelry, glass, candles, soaps, lotions, furniture, framed pictures, paintings, baskets, natural fabric clothing, toys, dolls etc.
BOOTH RENTAL INFORMATION
Exhibitors Retain 100% of all Merchandise Sales.
Limited Number of Booths only 25 merchants will be selected.
Limited Number of Artists within the Same Medium.
Eastern Market attracts 25,000+ Frequent Weekly Shoppers.
Extensive Marketing Plan Promoting thru Metro Times, & Social Media
Marketing such as Facebook and Twitter.
Fee, $25.00 for 10'x10′ area. We will waive the$100.00 annual
deposit for the first 25 approved applications received by September
9th.
Artists will be selected through an in-house jury process.
To request a Booth or for more information, contact: Bryan Wadlington or Kimberly Hill at (313) 833-800 or visit. detroiteasternmarket.com to download an application.
PLEASE SHARE THIS INFORMATION WITH YOUR FELLOW ARTISTS!
ABOUT EASTERN MARKET
Detroit Eastern Market is the largest historic public market district
in the United States. Every Saturday, Michigan's largest and most
colorful market is host to more than 150 farmers and vendors from
Michigan, Ohio, and Canada offering a cornucopia of fruits,
vegetables, breads, baked goods, jellies, jams, honey, apple cider,
cheeses, spices, herbs, plants and flowers.
Since 1891, Detroit's Eastern Market has been home to an amazing
community of farmers, merchants, restaurants, unique shops, food
lovers and residents. On any given Saturday, more than 35,000
Detroiters, suburbanites and tourists shop elbow to elbow, sharing
experiences from generation to generation.
Photograph Copyright Eastern Market Corporation 2009