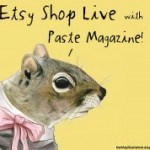 Straight from Facebook!
When? Wednesday, September 2 at 5 p.m. Eastern.
Where? Etsy's fun and interactive online meeting space, the Virtual Labs. http://www.etsy.com/virtual_labs.php
Remember the Virtual Labs only holds 150 people — so make sure you get a seat early. All you'll need to attend is an Etsy account — register here: etsy.com!
Who? Rachael Maddux will be our hostess with the mostess! She is the Assistant Editor at Paste Magazine, where she writes mostly about music and has developed a special knack for sneaking in as many opportunities to browse Etsy for "work purposes" as possible.