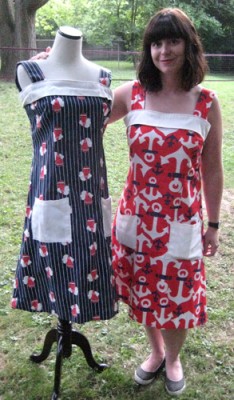 One of my favorite things to hunt for at thrift stores, estate sales, junk shops is unfinished clothing – A project that someone started years and years ago, and never finished, only to be thrown in a pile of unwanted rags. These finds are not only great because they are one-of-a-kind pieces, and usually have never even been worn, but you can also get them for a steal! I have lots many bags, aprons and skirts that all found a second home in my closet this way.
Weeks ago I found both of these dresses buried in a box at a junk shop. The tops and straps were still pinned in place, never sewn in, even though the dresses were nicely hemmed and finished everywhere else (with cut up bedsheets used for bias tape). I looked for someone who worked there that would look like they had no sewing experience (this is a key step). I showed her the dresses and explained that there were seams that still needed to be sewn, topstitching that was necessary, and that the straps still needed to be attached. Accomplished: I got a blank, confused look, and she only charged me $1 each.
I finished both dresses at home in a half an hour, and proudly added them to my wardrobe. They are great summer dresses, and I never fail to get compliments when I'm out wearing either one.
Next time you are at an estate sale looking for furniture, or a thrift store trying on shoes, keep your eyes peeled for your own unfinished treasure!