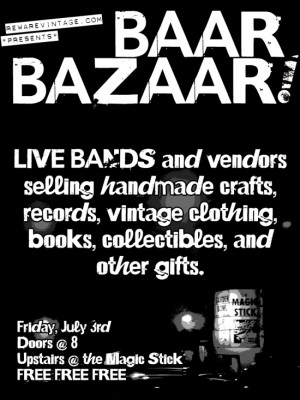 The summer's Baar Bazaar is this Friday! This Baar Bazaar will be in the Magic Stick, and Macho City, Serenity Court and Mother Whale will be playing while you shop! As always, admission is free, doors open at 8 p.m., and this is an all ages event.

Come the Baar Bazaar for unique, locally made items and Michigan-based businesses! The vendors are:
Reware Vintage – rewarevintage.com
Chris Cook – Hand-screened T shirts
Lish Magic – lishdorset.etsy.com
Blackenedruby Jewelry – blackenedruby.etsy.com
Knifey Moloko -Vintage toys and records, collectibles and clothing
Shionne Designs – Pop Culture Handmade Jewelry
Glass Action! – glassaction.etsy.com
Jasmine Everson – Collectibles, clothes, and used cds
TalkingSquid – talkingsquid.etsy.com
Chad Hansen – Vintage Clothing and Records
Courtney Wethy – Fabric bags, purses, and make up bags with tattoo style screen printing
Chris Ringler and Amanda Emery – Books, movies, vintage toys and tarot card readings
Kristine Hahn – Handmade jewelry and Records
Einfach Skate – einfachskate.com
Green Daffodil Soy Candleworks and Twig Natural Soap Company – Handmade Soy Candles and Soaps
The Black Water Gallery – myspace.com/theblackwatergallery
Bellyache Candy Shop – bellyachecandyshoppe.com
Hope to see you there!