Welcome to the new Handmade Detroit dot com! Take a poke around, won't you? Quite a lot has been happening around here – all with the idea of strengthening Detroit's crafty scene.
As Bethany said: "I love that the new Handmade Detroit website encompasses and involves so many different aspects of our awesome crafty community! … From shopping to making, promoting to teaching, there is something for anyone to experience!"
It's true! When you take a look around you'll notice that new features like the DIY map, an updated resource page and an RSS-able calendar are all access points to Detroit's growing DIY scene.
Says Amy: "Detroit is a 'Secret City.' There are always so many great events going on here, but they're well hidden … It's a central place for everyone to learn the secrets of our local DIY community."
The things to do, people and places that these pages list are just the beginning – we know there is much more out there and we want to hear from you. By submitting your links, tips and events, you'll be helping grow Detroit's community.
Of course, the blog is still here, but now with five authors and much more content. Comments are also threaded so we can have real conversations. And our popular Craftervidz have an area all their own.
"More content from the friends, fans and talents on the streets … There's so much more to see and do in our city and the more input we get, the better!" says Carey.
Perhaps our very first post, written in March of 2006 on a simple Blogger template, says it best: "We encourage you to make suggestions, to talk amongst yourselves and to pass along nifty things you've made. Afterall, that's what Handmade Detroit is really about — you. Out there. Making stuff."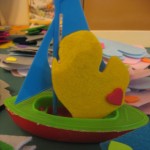 Finally, we would be remiss not to mention and thank the people that made this site happen. Unfortunately, due to the nature of websites and electricity, Josh and Dan were not on a boat while they worked to redesign and code the site. That would've been pretty cool. Redesigns are not always fun, and Lish picked up some of the less glamourous duties, like recategorizing years of posts. All three took the new plans and ran with them – spending countless hours making them happen. Thanks so much, you kids!
If you'd like to get a website this snazzy for your own self, dial DVX on the internet phone.
Now go click around!