A handful of years ago I got a call early afternoon from a friend saying "Come down to Xhedos (down my street and in Ferndale) and check this show out! You will love it!" Within minutes I was overwhelmed with the sight of wall to wall kids and parents, both on the floor, in seats and on stage … and the multi-tempoed sound of shaking tambourines, clicking wood blocks and the chatter of many maracas. It was a warm and funny musical atmosphere all around, an audience mixed with parents, hipster-types and locals. The event was Family Hootenanny!
I'm so happy in helping share the news that there is an upcoming Family Hootenanny event at The Magic Stick in Detroit! Handmade Detroit are proud sponsors, and I recently chatted electronically with April Boyle, "Hoot's" founding mother, about the January 25th event "A Circus Family Hootenanny."
What originally inspired Family Hootenanny & how did it all begin?
I have been a music fan all my life. I grew-up in Detroit and have been hanging around the scene and seeing shows since I was 17 years old.
So when I had kids I still wanted to be around good music but there really wasn't a lot going on for families. I had this Kids music CD called "the bottle let me down" that was put out out by Bloodshot records and they were doing this kid show at a bar in Chicago called the Hideout. So we went to that show and it was great to see these local musicians and their kids rocking out. I was inspired to bring something like that to Detroit. With all the great music in Detroit we needed an event like this. So I teamed up with Chris Handyside (Hentchmen, Blowout) to plan the first Family Hootenanny in the Spring of 2001. We ended up having them 2 times a year – usually spring and fall.
Who are some of the other past participants?
We've been very lucky to have such great performers, including Dan miller from Blanche, Jawbone, Jimmy Ohio & daughter-band Bambi, Deb Agoli and Chad from Outrageous Cherry had a Johnny Cash cover band, Candyband, Alicia BB from Slumber Party, Pas/Cal, Billy West, The Aprons ( a revolving line-up of local moms), Happy Tom Mchenry, Thomas Trimble from American Mars, Sunshine Doray, Gwen Joy and Jeff Meijer (Rocket 455), Audra Kubat. We've also had Liz Mitchell twice. She is a popular kids musician know for her recordings on Smithsonian folkways.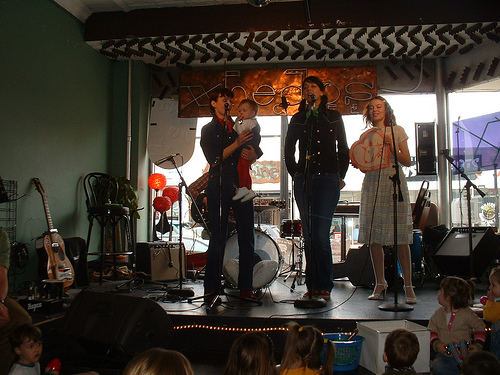 What was the experience like putting together a "Family Hootenanny" CD?
It was always an idea in the back of my mind but I was always too busy with twth little boys at home. But when I was pregnant with my third son I decided that it had to be then or it would never happen. So while I was incubating a litttle baby in my belly I was running around collecting kids songs from bands. It was actually pretty fun. That record got a lot of notice form Kids music critics and was voted #15 kids record of 2006 by Fids and Kamily panel. There was some momentum and it was very exciting. I teamed up with Deanne Iovan from the Come On's to produce a Holiday Hootenanny CD and show in 2007 as a fund-raiser for the Capuchin Soup Kitchen in Detroit.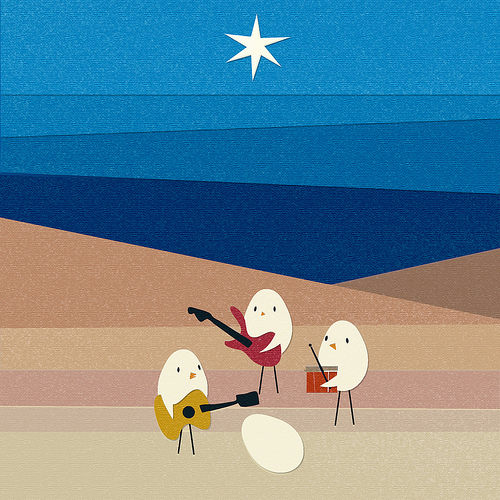 I was so happy to hear about the upcoming Family Hootenanny event at the Magic Stick! Am I right that it will be a carnival?
Well, It's actually a circus theme. We'll have face painters and bands and Hula-Hoop performers and jugglers and balloons. We're also doing something we've never done by including a DIY craft marketplace.
Ooh, a DIY Craft Marketplace? Hey, we know some crafters! If you have a kid-friendly craft that you think may fit the show, I understand there's room for a few more vendors! Please contact Traci@majesticdetroit.com. Deadline to apply is Friday, January 16.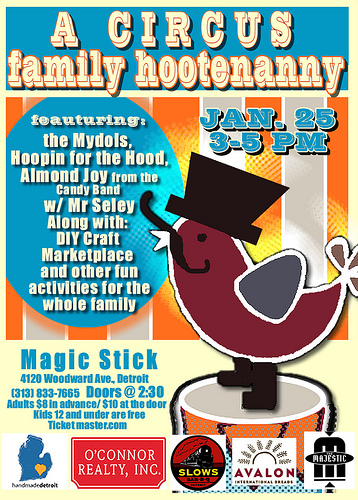 "A Circus Family Hootenanny" is Sunday, January 25th 2009.
Doors @ 2:30pm – the show begins @ 3pm.
$8 in advance and $10 at the door for adults. Kids are free! Advance tix available at The Garden Bowl & www.ticketmaster.com
Featuring performances by:
The Mydols, Almond Joy from the Candtband w/ Mr.Seley and Hoopin for the Hood Crew