Read Part I here.
Le whoa. I am behind. Where was I? Oh yes, "my new favorite place on earth and blowing all my money on art comics."
The new favorite place is the Minnesota Center for Book Arts. I'm sure other cities have these. Ah yes, New York, San Fran, you are lucky.
In Ann Arbor there is Hollanders, of course … but … I think I'm getting ahead of myself. Here are a couple of crummy pictures I took outside the MCBA. It was absolutely freezing the day we visited (go figure), so my patience for standing outside taking photos was nil.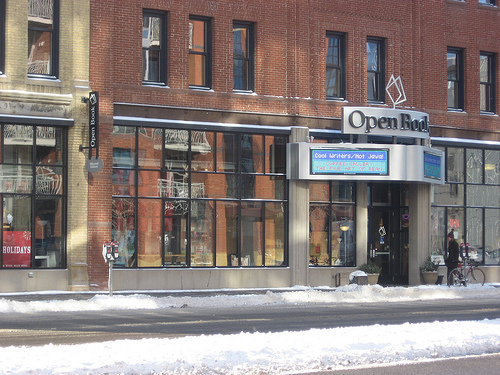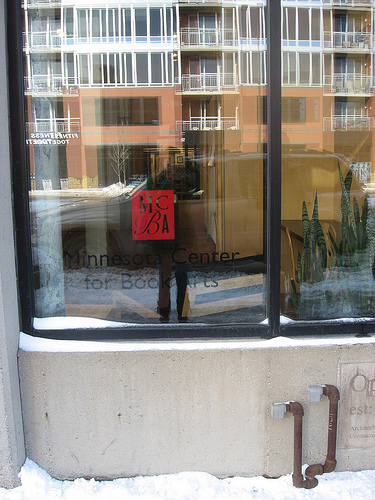 The Center offers workshops and classes for students of all ages in all my favorite mediums: Letterpress, silkscreen, bookbinding and paper making, among many others — there are also drop-in times to use the cool machines and such. The day we were there, they were teaching saddle stitch a group of elementary students. With so many people around, I got a little camera shy inside the workshop area, so just imagine a big room filled with typepresses and paper cutters. Yeah, it was awesome.
In the gallery, I was enamored with Brian Aldrich's paper work.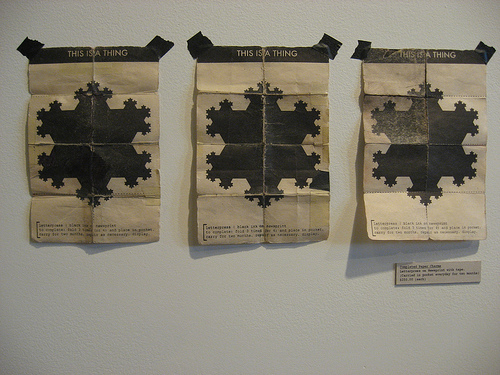 These "things" were free for visitors. Each came with instructions on how to fold them and carry them around. Very Fluxus.
He was also responsible for these "Art balls" made of "100 percent pure art."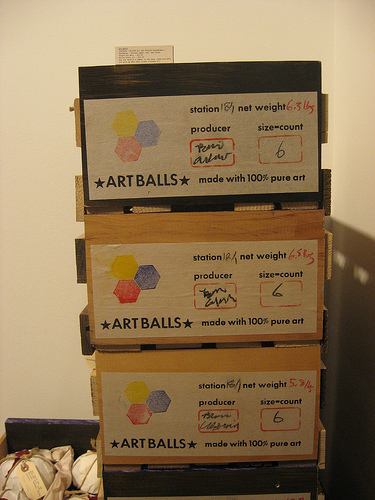 I really wanted one of those crates.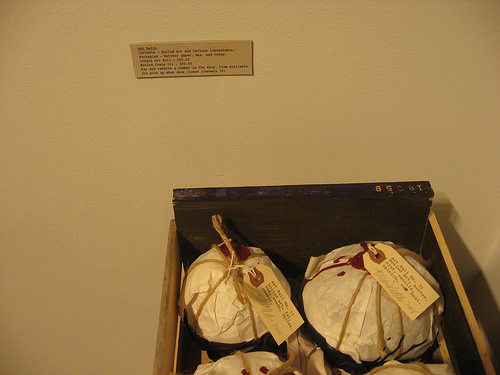 The little typewriter-written sign said "Contents — Boiled Art and Various Ingredients." A single ball was only $20 and you could save by buying a crate of them — 6 — for $90. Although I left the art balls behind (hehe), I did manage to pick up some binding supplies and a few zines I have been wanting forever. Score.
And while we're on the subject of printed matter: If you go to the MCBA, just a few steps down the street is Big Brain Comics. The guy behind the counter was super friendly — chatting us up about Detroit's indie book and comic scene. I ended up spending the rest of my money on comics and magazines here — but it was totally worth it.
Next up: The final installment of the Crafty Road Trip series, in which I travel over the border … and buy more comics!