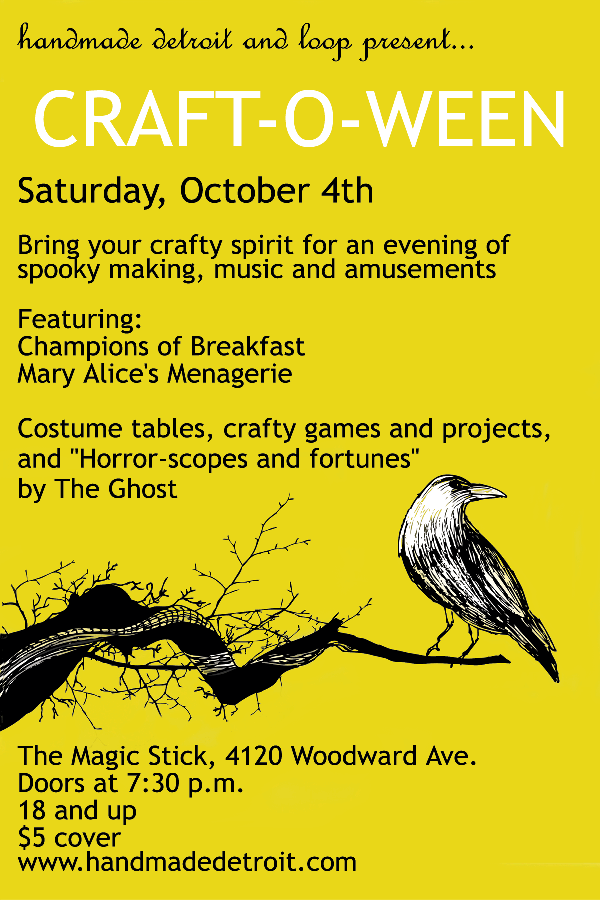 Ask a crafter what their favorite holiday is and, most likely, they will say Halloween. Around these parts, it's no different. We love designing costumes, making decorations and passing out handmade treats.
To celebrate, we're teaming up with Loop to present Craft-o-ween on Saturday, Oct. 4 at the Magic Stick, 4120 Woodward Ave. Designed to get you in the spirit (wink, wink) of the craftiest month, Craft-o-ween will feature costume and disguise making tables, games, "horror-scopes," contests, a raffle and lots more crafty surprises.
And of course, what would a Handmade Detroit show be without handmade instruments and puppets? Good thing we've got Champions of Breakfast and Mary Alice's Menagerie ready to rock the evening's DIY musical performances.
Here's all the deets in easy to read format:
Craft-o-ween
Saturday, Oct. 4
Magic Stick, 4120 Woodward Ave. in Detroit Doors at 7:30 p.m.
18 and up
$5 cover