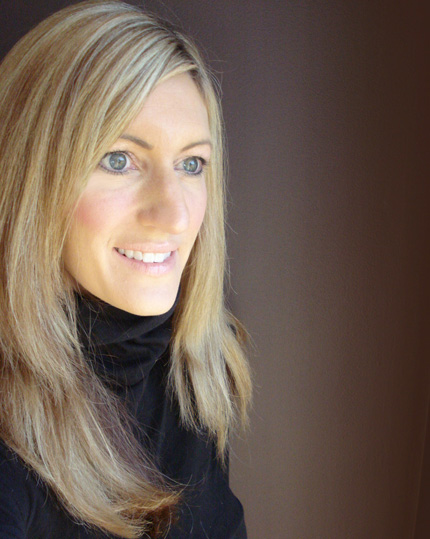 Designer Lisa Samartino of Beverly Hills makes me wish I could be a kid again. Plaid britches? Way too cute for words! Luckily her Afternoon Tea jackets will soon be available in adult sizes. Samartino's business, Robin's Egg Pink, was started just this year and she's already popping up in national magazines. Not surprising given her quality product line of super adorable fashions for the little ones. Let's hear more about her business.
Handmade Detroit: Tell us a little about your company, how long it's been around, what you sell, etc.
Lisa Samartino: Robin's Egg Pink was started this past July as a children's boutique with modern and sweet designs. Robin's Egg Pink specializes in jackets, tops, pants, aprons, and other essentials in the newest and most unique fabrics on the market today. Clothing sizes range from 18 months to 4T and can be found on etsy.com and a growing number of high-end boutiques around the world.
HD: What do you make/what's your craft of choice?
LS: My craft of choice is sewing. I like to see it all come together with the design of the garment and the choice of fabric.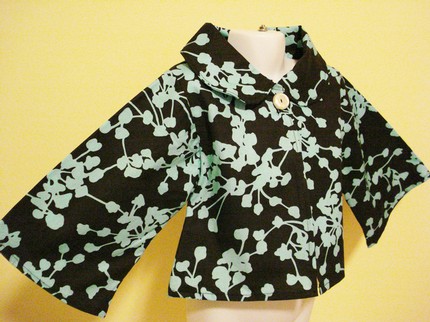 HD: What materials do you use?
LS: Fabric, buttons, ribbons, tulle.
HD: Why did you become interested in making?
LS: I loved the ballet tutus I used to wear as a child during my dance recitals and have always loved one-of-a-kind clothing. Design has always been an inspiring part of my life. I have a BFA in graphic design and have continually expressed my creativity through a variety of mediums. After taking a course in sewing, I began making skirts for myself. Everyone would ask me where I bought them.
HD: What inspires you?
LS: Many things inspire me. Colors such as pink, turquoise, lime green and chocolate brown. Ranunculus flowers, beautifully designed houses, Preston Bailey event designs, Valentino and Reem Acra gowns, a perfect summer day, celebrities, letterpressed cards, Aerin Lauder and Jackie O's fashion style, California's coastline, pretty cupcakes, my years living in Chicago, European Vogue, ornate diamond rings, Italian designed anything …
HD: Why did you decide to start your business?
LS: I decided to start the business this past summer after I made a few things for my son and it snowballed into the boutique. I do have someone wonderful and reliable that helps me sew, especially with custom orders. We are both perfectionists. There is no way I could do it myself with being a mom. I also try to work when my son is sleeping.
HD: Are you a mom? How does that influence your crafting or crafty business?
LS: Yes! I have a 2 year old named Giovanni. He is my inspiration. Being a mom makes me want to design items that will make him look like a gentleman. I love old school european designs that are timeless. The girls clothing I design are more vibrant. Sometimes they are smaller versions of what styles women are wearing today.


HD: What tips would you give to someone just starting their craft business?
LS: I would say be organized, plan well, but be flexible to change if needed. There is a lot to learn and sometimes what seems to be the most simple tasks are the most trying. If you really love what you do, most likely others will too. The great feedback from customers and interest from boutiques all over has made it worth the hard work. You have to give it a try, if not you will always wonder, "what if …" and
that feeling is worse then failure.
HD: Do you advertise? If so, what have you found to be successful?
LS: I've been very fortunate that people contact me through seeing my designs in reviews, blogs and through word of mouth. The turning point was when it was reviewed on designmom.com after I sent a link to my Afternoon Tea Jacket. People were contacting me to say they loved them, were going to review or purchase them. So you may need to submit a few things yourself to get the ball rolling, especially if you feel you have a great product.
HD: What craft sites do you frequent?
LS: etsy.com, designmom.com, mahardrygoods.com, juniorsociety.com, paper-source.com, polkadotmom.com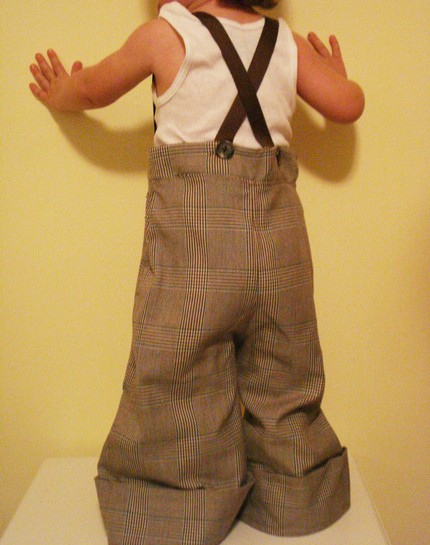 HD: What are you working on now?
LS: After taking a short break during the holidays, I'm going to be working on new designs that will be on Etsy and at high-end boutiques in Spring 2008. I will also have a line of the Afternoon Tea Jackets in womens sizes shortly. I was getting so many requests, I figured I had to make them! I'm looking forward to having items featured on smallmagazine.net and polkadotmom.com in December, too!
HD: Anything you'd like to add?
LS: I wanted to thank my husband for being supportive and my friend Lisa that gave me her mom's sewing machine after she passed away. It is a special gift that I'll always treasure.
HD: Thank you, Lisa!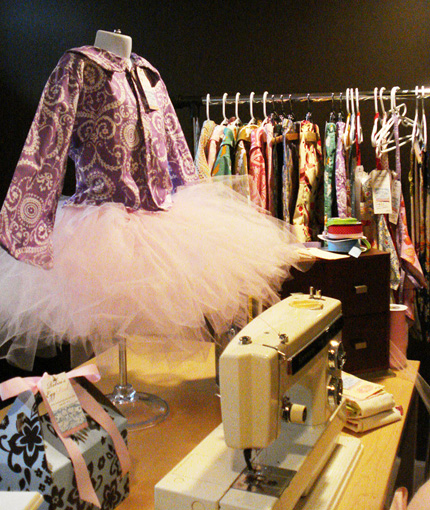 All photos copyright Lisa Samartino
Previously seen on Krafty Kids