Our own Carey has been throwing quite the zombie bash for the past few years. She's set to host the 4th edition this Saturday. But let's hear about it in her own words:
"Halloween's a great time of year for just about anyone to get creative. Construction paper bats, carving pumpkins or putting together a costume. Zombie Dance Party was created originally as a fool-proof way to pull an outfit together in record time and on a budget. It eliminates that "What to be?" torture of thinking of a costume. Here's some hints on how to be a great monster this year!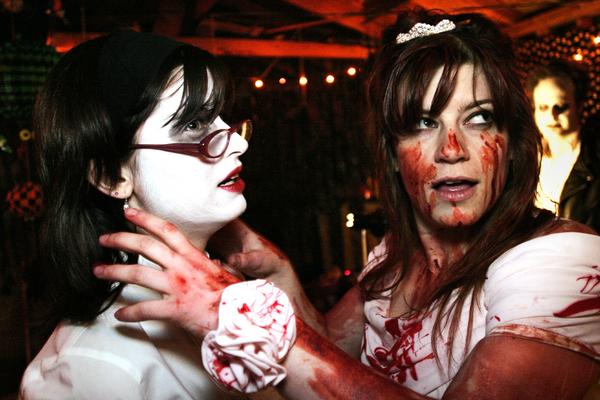 1. Hit your favorite (or nearest) thrift store and find some crazy dress or suit. Drag it from your car in the streets or have at it with your weed-wacker — anything to distress it (last year I actually set my gown on fire!) Mess it up real good and you're half way there!
2. The makeup. This doesn't have to be elaborate or expensive either. Even dollar stores have green makeup kits! Or black/grey is good, too. Big dark circles, a rubber scar here or there. Or better yet, come out to Zombie Dance Party early and have your makeup done! The Zombinator is a new feature–$5 Zombie Makeovers in under five minutes!!
3. Mess up your hair really crazy. Stuff some dried leaves or sticks in it, and YOU'RE ALL SET!
ZDP4 is going to be a great time this year. I've made some Glass Action! items as game prizes and give-aways. 6 awesome bands are performing live, who along with some 2 dozen other bands are featured on Bellyache Candy Shoppe's brand new double CD release "Ghoul's Delight! A Monster Party Record" — loaded with original Halloween-themed songs!
Hope to see everyone there!
Love Bites,
Creepy Carey"