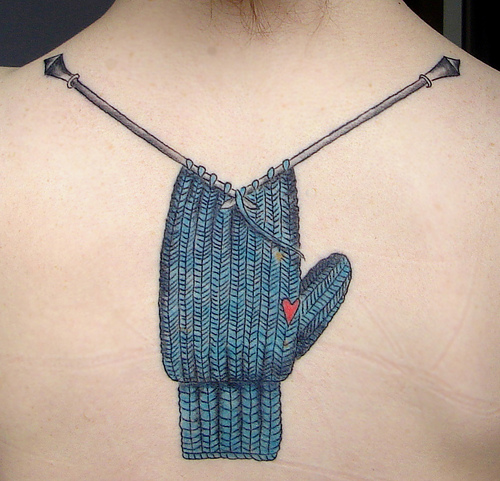 I stumbled across Pamela Wynne's beautiful knitting projects on Flickr one day and just knew we'd have to feature her on our little blog. Wynne, 29, resides in Flint and is proof that crafters in Michigan are a creative, clever and talented bunch. She blogs about her knitting projects, which she seems to create at a breakneck speed, and other adventures on her blog Flint Knits. All of her projects reflect her eye for cute personal style and there's more than a little yarn porn there for the lovers. Her Flickr photostream is not one to miss either, with gorgeous photos of her past projects and, lately, I've really enjoyed her self portrait project. And yes, that's the coolest crafty tattoo I've ever seen. But enough of my rambling, on to her interview!
Handmade Detroit: What do you make/what's your craft of choice?
Pamela Wynne: Yarn and textile crafts. I mainly knit, but I also crochet, sew, and do other crafts as they strike my fancy. As I've become more involved in online crafting communities, I've branched out and started doing more stuff — quilting, spinning, photography.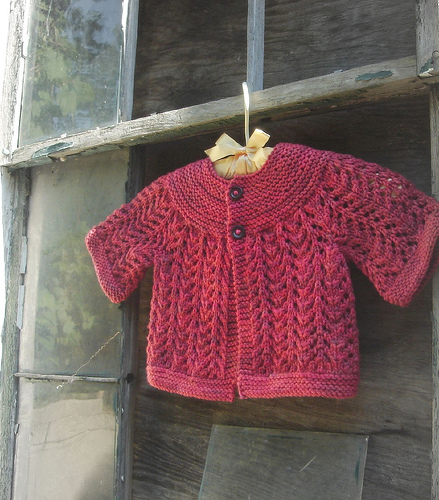 HD: What's your favorite project you've completed and why?
PW: Right now, I'm kind of in love with an Elizabeth Zimmermann baby sweater I just finished [the "Baby Sweater on Two Needles" from The Knitter's Almanac]. It seems like everything knitting should be: simple, wearable, practical, warm, pretty and, since I gave it to my niece, a kind of shared legacy between women.
Then again, I'm working on a pair of socks right now that are adapted from a Japanese sweater pattern. They're just the opposite: complicated, impractical, and way too ridiculous and fancy to ever actually wear, and I love them just as much as the sweater — so I guess there's a place for art-knitting in my world, too.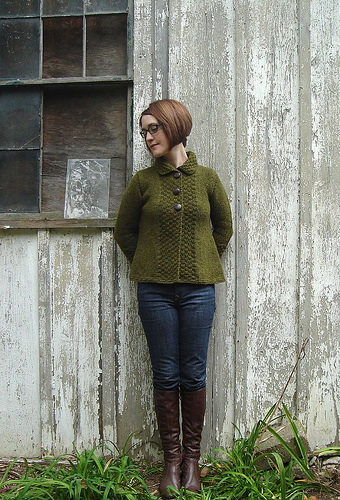 HD: How did you get started with your craft?
PW: My maternal grandmother was an amazing crafter. She taught me to knit, sew, draw, paint, and sculpt at an early age, but I forgot about the knitting for a long time. In my teens and early 20s, I had leukemia, and spent waaaaay too much time in hospitals. My mom reminded me how to knit and crochet as a way to pass the time, and she and I spent long hours together during the Cancer Years just sitting and making stuff. I've been hooked ever since.
HD: Why did you become interested in making?
PW: As a young kid, making was largely just a way to spend time with my grandmother and mom. Later, I think it became a way to create something that seemed honest or simple in a complicated, fucked-up world. Of course, I eventually figured out that making is just as much a part of that world as anything else, but at the time it seemed like a refuge of sorts. There was a kind of indie revolution that began in the early-mid 1990s, in response to the consolidation of the media and other culture industries. Precocious teens that we were, my friends and I started making art and music and fashion that subverted, copied, and made fun of mainstream corporate culture at the time. It's up for debate whether those movements have had any lasting political effects, but it's how a lot of us got passionate about making.
HD: What inspires you?
PW: Michigan. Flint. Contradiction betweeen pretty and not-pretty (girly fabrics worn with unshaved pits, lace knit out of stainless steel wire, public gardens next to hollowed out auto plants). My house, which is 100 years old and full of those sorts of contradictions. All the innovative people and art and craft that are coming out of the former rust belt. Leftist politics. My lover and my cat. Local music. Fake meats.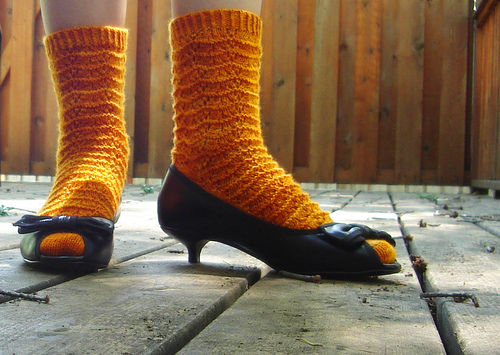 HD: What's been the most rewarding aspect of your craft?
PW: Meeting people I would probably never have come into contact with outside of crafty circles. Making can open up these intergenerational, interracial, cross-class interactions that don't often happen in our world. In Times Square Red, Times Square Blue, Samuel Delaney talks about how porn theatres in Times Square in the '60s and '70s were those sorts of spaces, where men had contact and made connections across the social boundaries that are supposed to separate us. I think making has that same kind of potential, if we decide to take advantage of it, and that potential has political implications.
There's also something to be said (and others, like Cat from microrevolt.org, have said it far better than I can) for insisting on the moral and political value of handmade stuff in the face of the violent and exploitative multinational fashion/apparel/home-decor industries. It seems important to think about making as a kind of laboring that we and our bodies do, in addition to being a hobby or an art or a passion.
HD: Is there something you've learned in your craft that would help other makers? (Tips, tricks of any kind ….)
PW: In knitting and crochet, there's nothing that will save your ass more effectively or more consistently than blocking.
In sewing, the same is true of a good iron.
HD: What's the one crafting tool you can't live without?
PW: Stitch markers from Entrelac.
HD: What craft sites do you frequent?
PW: Flickr is a useful resource for keeping track of what folks are making. Etsy.com. Ravelry.com. Whipup.net. Craftzine.com. Sewing.patternreview.com. A thousand knitting and sewing blogs, a list of which is on the side panel of Flint Knits. And I'd love to hear recommendations for other sites, please!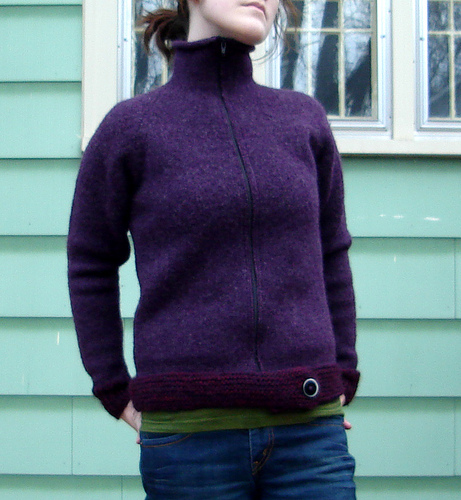 HD: What are you working on now?
PW: Those fancy Japanese aran socks. A heap ton of booties for my wee niece. A stainless steel knitted scarf. A purple cocktail dress.
HD: Anything you'd like to add?
PW: Just a plug for Kitty Litter Creations, Etsy's one and only Flint-based seller. She makes vegan bags and wallets, and reusable cloth menstrual pads that I swear by.
A big thank you to Pamela for all her hard work on helping this interview come to life.
Link Recap
All photos copyright Pamela Wynne/Flint Knits.
From top to bottom photos are:
Wynne's Mitten tattoo (which makes Stephanie swoon)
"Baby Sweater on Two Needles"
Wynne modelling her Drops cardigan
Marigold socks (available as a free pattern on Flint Knits)
Recycled sweater jacket (available as a free tutorial on Flint Knits)