Attention Michigan Crafters: It's summer fair application season! If you're like me, you're starting to plot out your summer, so here are some local fairs we like … and a bit more …
MICE craft show in Royal Oak
Applications are now up for the Michigan Indie Crafter's of Etsy's Craft Extravaganza! Planned by Danielle Maveal and Heidi Muszall, the event will showcase Michigan Etsy sellers at the Royal Oak Theater.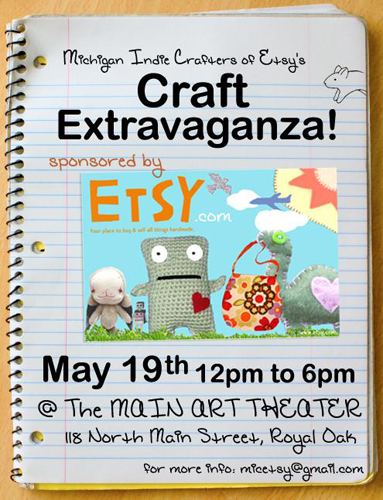 More info (and how to apply) can be found at myspace.com/micetsy. The deadline to apply is April 7th, so get to it!
DAP in Wyandotte
"progressive art emerging artists bazaar gong show revival" is how the Wyandotte Art House is describing their alt-bazaar "Dotte Art Project" slated for July 11-16th at the Wyandotte Art Fair. More info is at the DAP myspace. Or you can e-mail wytownfest at yahoo dot com. Sounds like this will be a really interesting event.
Artisan Market in Ann Arbor
The Sunday Artisan Market will open April 1st and is a good way to get your feet wet with craft selling. The fee to sell is only $15 per day and the group is planning regular meetings beginning in April to help crafty people with marketing and business issues. The web site has a lot of information on what they do, or you can check out the Artisan blog for updated news.
A little bit more …
My My Roundup
Taryn has posted a great roundup of upcoming national shows with quick and easy application references. You'll notice our Sunday Crafternoon events made the list … speaking of which …
Sunday Crafternoon Applications
If you've been to our SC info page lately, you'll see that we are booked for all SCs through July (including July). This is so fab! To cut down on tasks, we're semi-closing the fall applications. In other words, you may still apply for fall Crafternoon dates, but be aware that we won't be booking them until mid- to late summer and won't have time to get back with you until then. We'll do another call for artists push around June, so you have plenty of time if you're thinking about applying.
Was that enough info for ya? No? Well, you're in luck. A Detroit Urban Craft Fair update is in the works for a little later this afternoon.
So, what fairs are you planning to do this summer?