We've kept this one under our hat for long enough. Starting Feb. 11 we will be hosting a monthly afternoon of local artists and crafters at the WAB in Ferndale.
Sunday Crafternoons is a chance to check out an ever-changing batch of Detroit's finest arts and crafts makers, handpicked by Handmade Detroit.
The first Sunday Crafternoon will be Feb. 11 from noon to 4 p.m. just in time for Valentine's Day. Check out the flyer: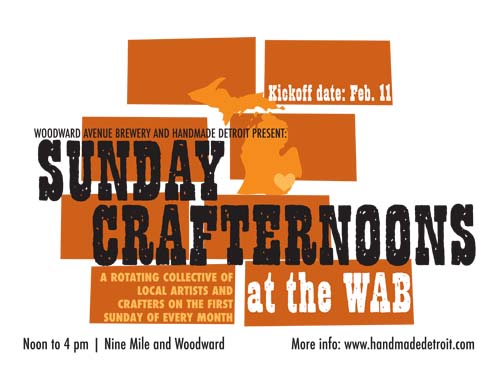 As always, the event is free and open to the public. Feel free to take that flyer and pass it around. And while you're at it, why not friend the brand new Sunday Crafternoon MySpace!
—
Interesting in showing your stuff? Information and application instructions are posted on the Sunday Crafternoon MySpace.
EDIT: Oops, might be good to have the correct MySpace! 🙂 Links are changed to: www.myspace.com/sundaycrafternoon