I'm keeping it short and sweet this week.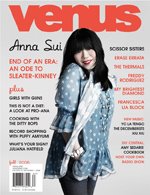 You have to pick up a copy of the Fall issue of Venus Zine for two reasons. The first is someone named Stephanie Tardy has a story with Japanese pop duo Puffy AmiYumi. The second is that no one is doing, covering and talking about DIY like Venus these days. As Henrietta Fahrenheit would say: They get it. This issue's cover story is written by Sublime Stitching's Jenny Hart. Other DIY highlights include our friend Faythe and the Indie Craft Documentary, making watches and Mexican prayer candles, podcasting, Crafting for Charity and, as always, tons of great crafty picks.
Calling all Zinesters!
+ If you are a Michigan-based or crafty zine maker, I'd love to feature your zine in an upcoming post. Please get in contact at handmadedetroit@yahoo.com or send them to the address on the right over there.