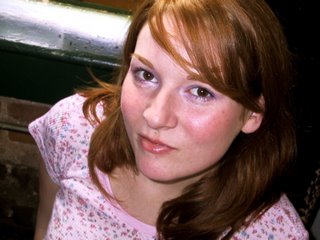 Meet Shannon Jones. The 25-year-old Plymouth resident is the crafty force behind her own jewelry line, Heart With Wings. Shannon's delicate collages are a wonderful look to the past and an exciting nod to the future for not only the various accessories she produces, but what else she has up her sleeve.
Do you have a traditional 9-to-5 job?
Outside of my business I work in a bar called Olde Town Grille in Plymouth. I've been waiting tables there for almost three years. It pays my bills and I still get to do what I love.
When did you first get into crafting and making? What type of activity was it?
I've been making things ever since I was a kid. I was never envolved in sports or anything like that; you would always find me alone drawing or glueing some yarn or pipe cleaners to something.
I started Heart With Wings earlier this year. I'd been making my own jewelry for a few years prior and about a year ago I started selling on consignment.
Why did you become interested in making?
I guess that the reason that I'm interested in making and creating is because I have to create everyday. If I'm not constantly working on something I feel bored. I love to make things with my hands and I love the feedback that I get from people.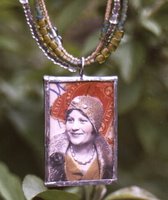 What are your main products?
My main products are my handmade jewelry which are all one of a kind. I sell necklaces, bracelets and earrings. I am currently venturing into the world of belt buckles and am working on a few prototypes:)
Is this a full-time passion of yours, or something on the side?
I think this is a full-time position for me. Every day that I have off from my "real job" I spend working on things for my biz. I'm constantly thinking about new things to work on and trying to get my name out there.
How do you sell your goods?
I have sold my jewelry on consignment in the past. I currently have an Etsy shop. I also sold at the Detroit Urban Craft Fair, which was my first fair. I'm planning on having a table at Dally in the Alley next month as well.
Price range?
My price range is from $3.00 to $50.00. I also make custom necklaces, which start around $45.00.

How long have you been doing this?
I've been selling my work for about a year now, but over the past few months things seem to be taking off for me thanks to Etsy, Myspace and the DUCF.
What kind of reactions do you get from customers?
I was so pleased with all the reactions that I got at the DUCF. I had a lot of people asking me where I get my design inspirations and where I find the pictures for my collages. I had people asking me about custom orders. It feels good to be recieving so much interest and make a profit off of what I love to do.
Why do you enjoy making?
I enjoy creating because it makes me happy and I can't imagine having a life where I didn't spend time making art.
What's the most challenging aspect of being a DIY business?
I think the challenging aspects of any DIY business are just getting your name out there by being original. It's hard when companies try to copy what you do and put out watered-down versions of what we work so hard on. Anyone can make jewelry, but I have to make something that not only represents me as an artist but also stands out from something you could buy in a store.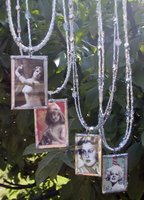 Whats been the most rewarding aspect of your craft?
The most rewarding aspect for me is just the reactions that I've been getting from my customers either in person or online. It's very encouraging and fuels me to want to create more.
Do you have any tips or suggestions for someone interested in launching their own line or simply interested in making for the first time?
1. Never underestimate the power of your Myspace account! It's great for networking and finding out about upcoming shows, craft promos, etc.
2. Find a good web designer or be your own.
3. Those craft sampler packages are awesome. Even if you just contribute a button or a business card someone will go to your web site and check it out. It will help you gain business and attention in the end.
4. Be original and follow your heart.
What would I like to see in a Happy Meal?
A viewmaster