Have you been in the craft section of a bookstore lately? The darn things are overrun with knitting books. I have always been more a crochet girl myself (something about the loops always seemed easier), so if you're into patterns and the like, here are two I can recommend.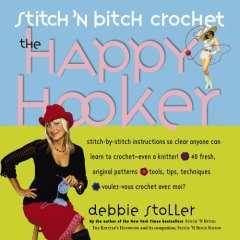 Debbie Stoller's long-awaited follow-up to her Stitch'n Bitch books, "Happy Hooker" is out. The book includes a short "how-to" section, with a wide variety of stitches. The 40 projects reflect the same type of clever from her previous books — everything from monkey iPod cozies to a (crocheted) bikini. Because I have seen better instructions in other books, I would say this isn't totally perfect for someone who just bought a hook. If you're an advanced beginner on though, you'll enjoy learning beyond the single crochet. I enjoyed finding out about tapesty crochet, a technique that allows you to put images in your work. Finally, a way to put a bunny in that potholder! Link
If you're a brand new beginner though, check out the following: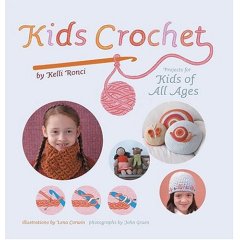 I often find that newbies (myself included) learn best from kid's books. Plus, they ALWAYS have the cutest projects. And this book has a lot of them, including a snail and a 3D cupcake pattern. All the projects employ the single crochet, the simplest stitch and build one on top of another. The beginner how-to section is the best I've seen in any form, with lots of good illustrations and simple verbage. Link
Now if following book patterns makes you want to puke (you live outside set guidelines, you say), Prudence Mapstone has your back. She works in a style called Freeform Crochet that is so great it makes me want to puke, too. Check out her site Knot just Knitting and the great photo explantion under "What is Freeform."
Happy Making!